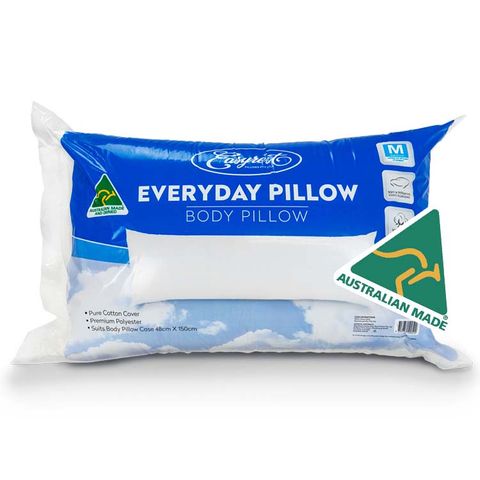 ER EVERYDAY BODY PILLOW
$46.95
Description
Description
The Everyday Body pillow offers extra support for a peaceful night's sleep. At 150cm long it provides full body support and is popular with the elderly as well as pregnant women who find relief from back pain and tenderness. Pure cotton cover filled with premium hollow polyester for lasting resilience, support and comfort. The flexible design suits all body shapes.
Suitable for all sleepers
Suits standard body pillowcase
Long lasting head and neck support
Made in Australia
Non Allergenic, mildew proof hygienic and odourless
Premium Polyester filled
OEKO-TEX® Confidence in Textiles
More Information
Perfect for anyone who struggles to find the perfect sleeping position and particularly helpful for pregnant women. Great to snuggle up to at night or for decorative purposes.
We recommend the use of a Body pillow protector to help extend the life of your pillow.
Specifications
Measurements: 48cm x 150cm
Fill: Polyester
Cover: Cotton
Care Instructions
Warm hand wash
Squeeze gently
Drip dry
Customer Reviews and Ratings
No Reviews
Be the first to review this product!