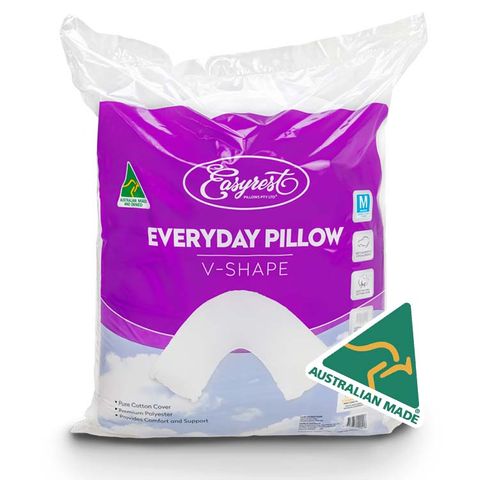 ER EVERYDAY V PILLOW
$34.95
Description
Description
The Everyday V Shape pillow offers medium support for head and neck or during pregnancy. Pure cotton cover filled with premium hollow polyester for lasting resilience, support and comfort. Perfect for extra support whilst watching TV, reading or using your tablet.
Medium support
Suits standard V Shape pillowcase
Long lasting head and neck support
Non Allergenic, mildew proof and hygienic
Premium Polyester fill
Made in Australia
OEKO-TEX® Confidence in Textiles
More Information
The V shape pillow provides the perfect amount of extra support during pregnancy and for nursing mothers. Can be used for decoration and added support whilst reading or watching tv.
We recommend the use of a V-Shape pillow protector to extend the life of your pillow.
Specifications
Measurements: 60x28 (arm) + 60x28 (arm) x 24cm
Fill: Polyester
Cover: Cotton
Care Instructions
Warm hand wash
Squeeze gently
Drip dry
Customer Reviews and Ratings
No Reviews
Be the first to review this product!